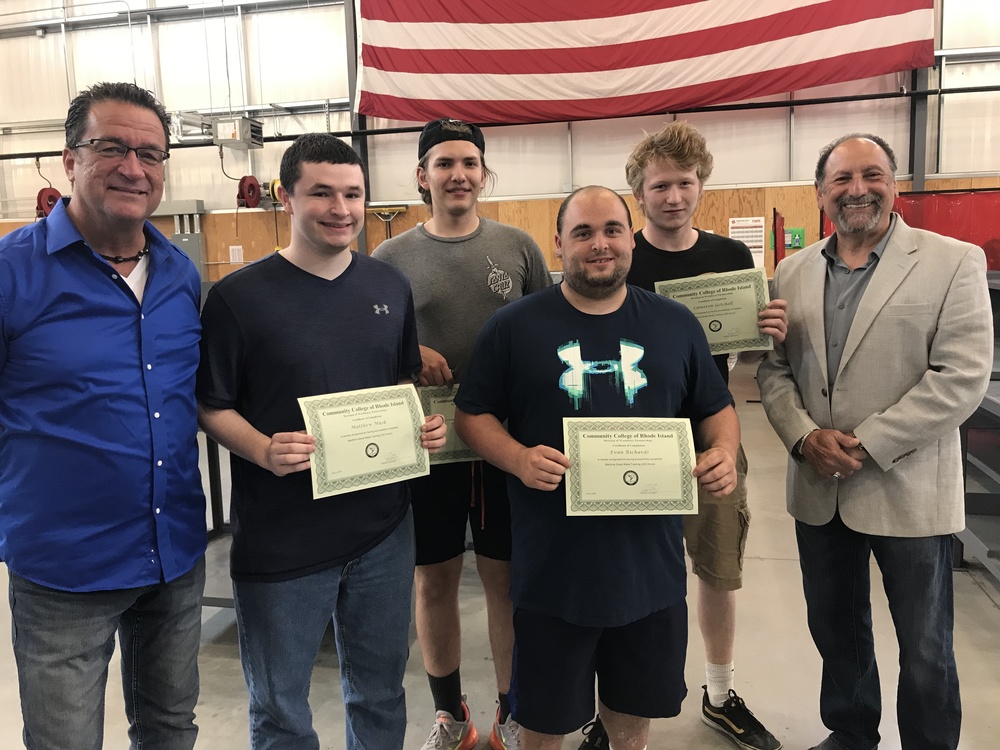 EWG High School Students Graduate Electric Boat Shipbuilding Course
Robin Cerio
Friday, June 07, 2019
Exeter-West Greenwich High School pipefitting students and instructors (Left to right) Instructor Jude Pescatello, Matthew Musk, Colin Couture, Evan Richards, Cameron Getchell, and Instructor John Koussa.

FOR IMMEDIATE RELEASE
CONTACT: Beth Bailey 401-487-1046
EXETER-WEST GREENWICH HIGH SCHOOL STUDENTS GRADUATE ELECTRIC BOAT SHIPBUILDING COURSE
WESTERLY, R.I. (June 6, 2019) – Westerly Education Center hosted a graduation ceremony on Wednesday, June 5 to celebrate the 26 students who successfully completed courses in maritime pipefitting and maritime sheet metal. The workforce training and higher education center, together with Community College of Rhode Island and Electric Boat, offers the 240-hour (pipefitting) and 200-hour (sheet metal) instruction courses for high school students interested in careers at Electric Boat. Some students will continue on with employment or internships at Electric Boat, and some will study at CCRI in the fall.
Four of the students live in Exeter or West Greenwich. All students completed the maritime skills courses while simultaneously enrolled in their high school programs.
Following the success of a small pilot program for high school students last summer, WEC expanded the high school program to students from Westerly, Stonington, North Stonington, Coventry and Exeter-West Greenwich school districts.
Westerly Education Center supports employers, educators and industry professionals in the provision of high-quality professional development and employee training. All Rhode Island public higher education institutions (Community College of Rhode Island, University of Rhode Island and Rhode Island College) and the R.I. Department of Labor and Training are partners in the effort to provide workforce training and improved regional access to education. The facility features instructional classrooms and lab space for hands-on, industry-ready training programs.